Hotel BOTA ***+ Burg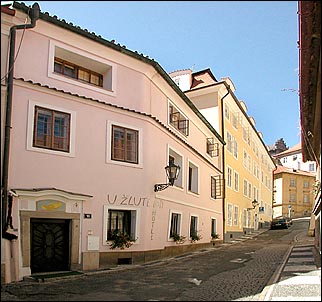 Auf der Kleinseite (Mala Strana), nur wenige Schritte von der Prager Burg, finden sie das renaissance Hotel, "U žluté boty" (Der Gelbe Schuh), mit bewahrtem original Holzwerk.
Das barocke Gebäude bietet Anpassung in sieben Räumen (fünf Räume mit eigenem Badezimmer) und in einem Suite an. Alle Räume sind elegant, die Decke mit schön gemalten Holz bedeckt. Die zimmer sind geräumig. Die Räume No.1 und No.2 (sind ursprünglich mit Ziegeln gedecktem Ofen verziert), sind mit Türen verbunden, ideal für Gruppen. Auserdem jedes Zimmer enthält noch ein Direktwahl-telefon, ein Radio und einen Internet Anschluss.
Buffett-frühstück, Gepäck Service, Haustiere erlaubt, Tresor bei der Rezeption,
die 24 stunden ihre Wünsche erfüllt.
Have yourself enchanted by theatmosphere of days of long past? Just few steps from The Prague Castle you findthe newly reconstructed renaissance hotel "U žluté boty" (The YelowShue), with preserved original vaults. This unique building providesaccomodation in 7 double rooms (spare bed possible) and one studio. All therooms may be connected, they are carrefully furnished with certain style and thebathrooms are lined with wood. The rooms are equipped with direct - dial phone,radio, internet connection, TV and safe in the reception. In summer, thecomfortable and cousy court yard to stay. The whole complex is among the mostinterresting ones on Mala Strana (The Lesser Side).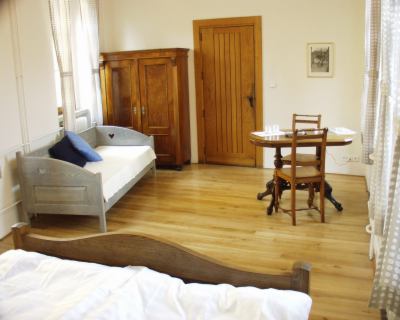 Lage:
Prague 1
Malá Strana/Lesser Town/
Entfernung zur U-Bahn:
alles zu Fuß zu erreichen
Fahrt mit der U-Bahn zur Altstadt:
alles zu Fuß zu erreichen
Frühstück:
Ja
Badezimmer/WC:
Ja
TV:
SAT / Telefon
Parkplatz:
Garage (350,- CZK/Tag)