HOTEL AK ***
akcent@i-prague.com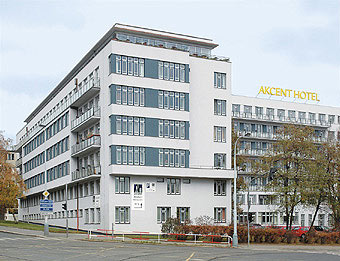 this is a brand-new original three star hotel in Prague built on a functionalistic
office block constructed in 1930's, hotel includes 53 large rooms,
which offer great lookout and undisturbed
quiet hotel adjoins the entrance of the Andìl underground station hall,
the Lesser Town is just 15 minutes walk, everything in Prague is within your reach
air-conditioning, safe-deposit box, internet, supervised car park, exchange office .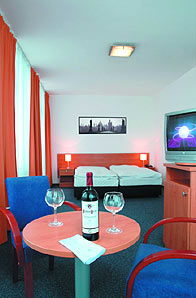 Das ist ein ganz neues, originales Drei-Sterne Hotel in Prag, dass im funktionalistischen Administrationsgebäude aus den dreissiger Jahren des letzten Jahrhunderts errichtet wurde.
Das Hotel verfügt über 53 Zimmer und ist durch seine Lage und mit der unvergessliche Aussicht sehr attraktiv. Hotel befindet sich in unmittelbarer Nachbarschaft zum Vestibül der Metrostation Andel. Sie gelangen mit einem Spaziergang von nur 15 Minuten zur Kleinseite. Alles in Prag ist im Bereich.